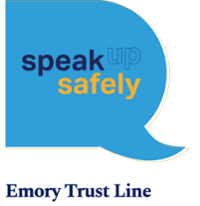 To Make a Report:
Call 888.550.8850
EmoryTrustLine.com
Vision
VISION STATEMENT
To be a trusted and essential advisor for Emory's Board of Trustees and executive leadership, and provide valuable business insights that help protect and enhance Emory's reputation.
Mission
MISSON STATEMENT
The Internal Audit Division delivers world-class assurance and advisory services by:
Aligning and prioritizing our work efforts to focus on the enterprise's strategic goals and risk management objectives.
Attracting, retaining, and leveraging a talented team by    cultivating a culture that empowers employees to be innovative and guides them towards success.
Building mutually respectful and trusted relationships with colleagues across our schools, business units and healthcare facilities.
Serving as thought leaders and catalysts for continuous    improvement by sharing best practices and standards across the enterprise.